Sam's Leaf Guide
For information on buying and owning a pre-2018 model Nissan Leaf in New Zealand, this guide is for you.
Generations
Leaf generation terminology is inconsistent across publications. Approximately one year after the Leaf was first released in 2010 (ZE0), the modified version was released that was referred to by online communities as "Gen 2". This modified version has an improved battery chemistry that showed less degradation. Forum discussions prior to 2017 mostly refer to "Gen 1" and "Gen 2".
In NZ, all 2011 Leafs, and some 2012 Leafs are "Gen 1". Late 2012 Leafs first (approx. Nov 2012 onwards) are "Gen 2". Prior to 2019, all Leafs sold in NZ by Nissan (NZ new) were "Gen 1" (even the 2014 ones).
You can tell "Gen 1" and "Gen 2" vehicles apart from photos of the engine bay and boot. The engine bay in the "Gen 1" has a smaller charger cover and the boot has a higher wall beneath the rear seats.
In 2019, Nissan NZ started selling the true Second Generation Leaf (ZE1). This car looks very different externally and is priced a lot higher than earlier Leafs. It is not particularly competitive with other EVs in this price range, and more information is readily available about them. This Leaf Guide therefore focuses on the ZE0 models and uses the "Gen 1" and "Gen 2" terminology for consistency with forum/Reddit posts relevant to these cars.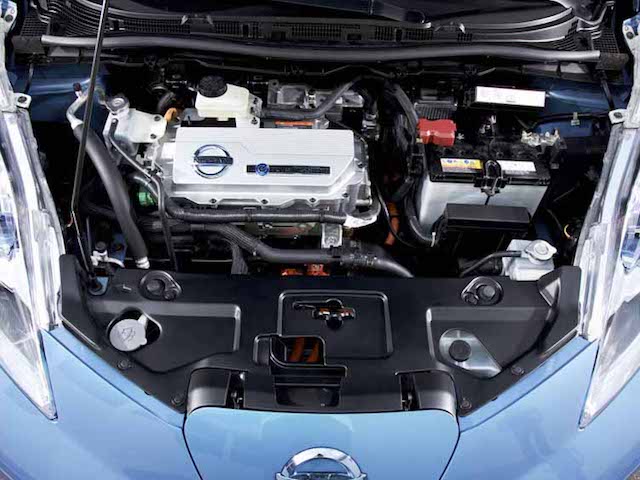 Gen 1 engine bay showing charger cover (grey metal rectangle with Nissan logo on it).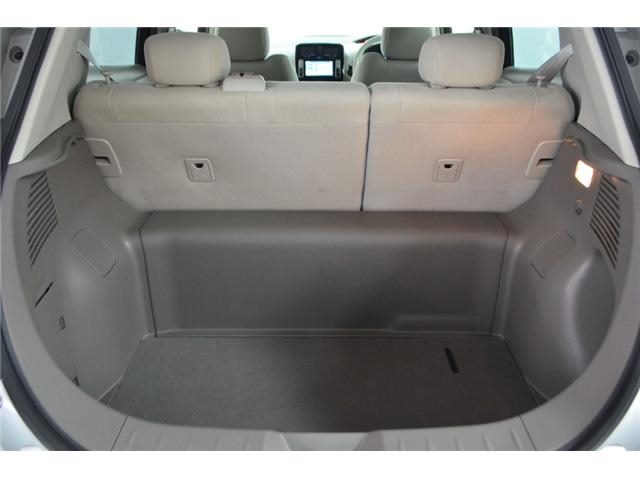 Gen 1 boot with high gap between seat back and boot floor.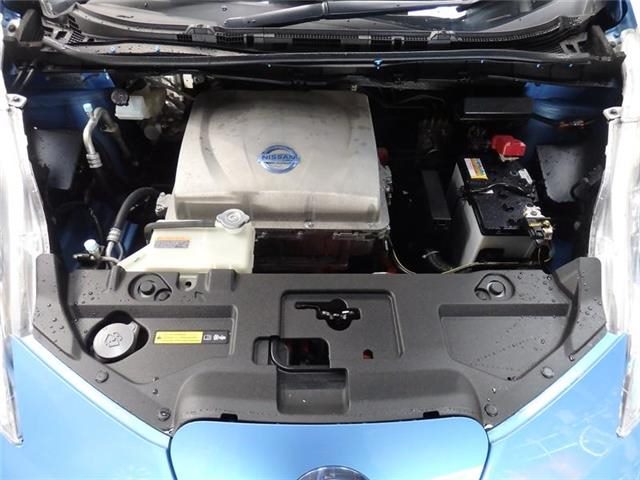 Gen 2 engine bay showing larger cover and longitudinal battery orientation.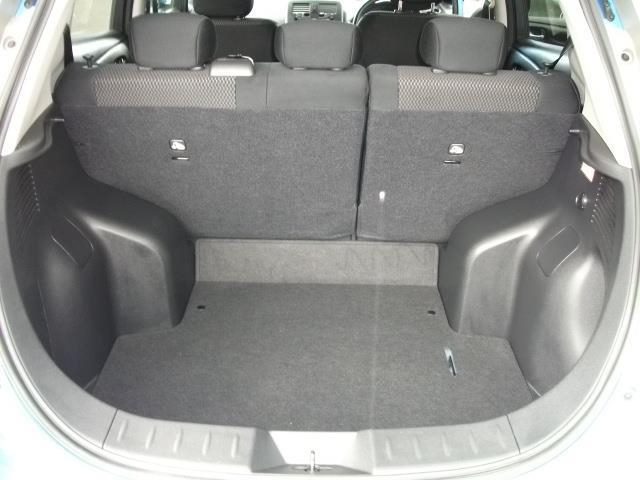 Gen 2 boot with shorter gap between seat back and boot floor.
Imports
Ex-Japanese models
Most used Leaf imports in NZ are from Japan. The following applies to ALL ex-Japanese Leafs:
Language
Navigation unit and instrument cluster are in Japanese and cannot be changed easily. The satellite navigation (GPS) also does not function outside of Japan. However, the stereo in the "Gen 2" S model can easily be removed and replaced with an English double din aftermarket unit. There are now some people providing instrument cluster and navigation unit language conversions (Hayden at GVI, Toyota Hybrid Battery Experts) , but details on price and method are sparse.
Controls
The important controls including climate control, radio, and physical buttons are in English. There are only 3 physical buttons with Japanese characters (Map, Settings and Info), so you can learn them easily. After you have set your initial settings (e.g. charge timer, Bluetooth connection), you will not be hindered by the Japanese menus for day to day driving.
Standard on-board charger only
Japanese Leafs have 3.6 kW on-board chargers (6.6 kW is only available on UK models).
Ex-UK models
These are less common and once commanded a higher price, but are becoming more affordable. They are generally imported privately.
Language
Everything is in English on a UK Leaf.
Faster on-board charger
UK models have a 6.6 kW on-board charger option that allows faster AC charging.
Trim names
The UK trims and features are similar to the ex-Japanese Leafs, but with different names. S = Visia, X = Acenta, G = Tekna.
New Zealand new models
Nissan NZ officially stopped selling the Nissan Leaf new in 2014 (dealers sold remaining stock into 2015). They were more expensive than imports, so dealers weren't interested in continuing to try to sell them. They restarted in 2019 with ZE1/new look models.
No Gen 2
NZ new models are all "Gen 1" (even those marked 2014) or new look. They are mostly unsold stock from Australia.
No navigation
NZ new "Gen 1" models lack satellite navigation, so their only advantage over a Japanese "Gen 1" Leaf is the English instrument cluster and stereo, and any remaining warranty.
Trim
"Gen 1" Leafs have two trim levels: The X (lower end) and G (higher end). Both have a charge timer (to set start and stop times for charging off peak) and climate timer (to pre-heat or pre-cool the cabin while plugged in), Bluetooth connectivity, push button start, stability control, and 6 airbags. The G adds fog lights, auto headlights, reverse camera, and a solar panel spoiler to trickle charge the accessory battery (not the main traction battery).
"Gen 2" introduced a third lower end trim level S, making X the mid-range. The main improvements of the "Gen 2" Leaf are improved battery chemistry (much slower degradation), 80 kg weight reduction with aluminium doors and bonnet (applicable only to Japanese models, UK models have steel doors/bonnet), more boot space, hill start assist, charge plug lock + light, insulated ceiling, dark trim option, and on X and G models: enhanced brake regeneration (B mode) and a more power-efficient heating system (heat pump instead of resistive).
All have the same 24 kWh battery (except 2016+ models that have a larger 30 kWh option), performance, and vital features such as the charge and climate timers. Note the absence of a parcel tray in all but the G trim before 2016. The parking brake in the "Gen 1" is electronic, while it is a classical foot-operated one in the "Gen 2" (less futuristic, but possible more reliable).
The number of airbags also varies by trim. For example a 2014 S may only have driver and passenger airbags, while a G may have curtain airbags. It is unclear exactly which trim levels and years have different airbag specifications.
You can easily tell the S trim by the large round manual climate control knobs instead of the digital climate controls of the X and G.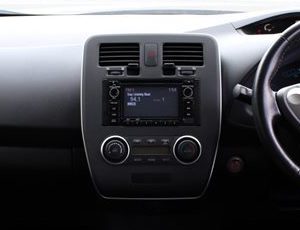 S trim centre console showing rotating dials absent in other trims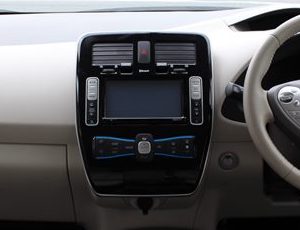 X & G trim centre console showing digital climate controls
Table 1. Trim comparison for the 2012 - 2015 "Gen 2" Leaf
| | S / Visia | X / Acenta | G / Tekna |
| --- | --- | --- | --- |
| Charge timer | done | done | done |
| Climate timer | done | done | done |
| Heated seats/steering wheel | done | done | done |
| Electric folding mirrors | done | done | done |
| Bluetooth audio & phone handsfree | Phone only | done | done |
| Reverse camera | Option | Option | done |
| CHAdeMO fast charger | Option* | Option* | done |
| Fog lights | Option | Option | done |
| B mode | | done | done |
| Heat pump | | done | done |
| Cruise control | | Option | done |
| LED low beam headlights | | Option | done |
| Alloys | | 16" option | 17" |
| Auto headlight on/off | | Option | done |
| Parcel tray | | | done |
| Spoiler solar panel | | | done |
| Bose 7 speaker audio | | | Option |
| 360 surround camera system | | | Option |
| Leather | | Option | Option |
* Ex-Japanese Leafs probably all have CHAdeMO, however I haven't been able to confirm or deny this. The optional spec if based on the US trim line-up.
Table 2. 2016 - 2017 Leaf trims (where different from pre-2016 models in Table 1)
| | S / Visia | X / Acenta | G / Tekna |
| --- | --- | --- | --- |
| CHAdeMO fast charger | done | done | done |
| Parcel tray | done | done | done |
| Fog lights | done | done | done |
| Auto wipers | | done | done |
| Reverse camera | | done | done |
| Cruise control | | done | done |
| Electric folding mirrors | | done | done |
| Auto headlight on/off | | done | done |
| Tinted rear windows | | done | done |
| Heated seats/steering wheel | | | done |
| Leather | | | done |
| Bose 7 speaker audio | | | done |
| 360 surround camera system | | | done |
| Spoiler solar panel | | Option | Option |
| 30 kWh battery (24 kWh is standard) | Option | Option | Option |
| 6.6 kW onboard charger | Option | Option | Option |
Note: There is a paucity of information readily available in English about the 2016 and 2017 Japanese Leaf. I assume the trim levels are the same as UK models except for the 6.6 kW onboard charger option. You may find the occasional Leaf with a different combination of trim options.
More trim information
Charging
Charging terminology can be overwhelming, so don't get lost in the detail. Your Leaf will come with a Level 1 charger that plugs into a standard wall outlet (6 to 10 amps) or a Level 2 charger that plugs into a larger caravan plug outlet (15 amps). Using a standard wall outlet, you will be able to fully recharge overnight. A caravan plug outlet can be installed in your home by an electrician for approximately $400 - $600 and will allow a near doubling in charge speed.
Note that technically the 'charger' is actually an EVSE (electric vehicle supply equipment) as the actual charger is built into the car. A portable EVSE is plugged either into a standard wall socket or caravan plug. An original Nissan EVSE (15A) from Japan cannot be used legally in NZ (Gazette notice 2020).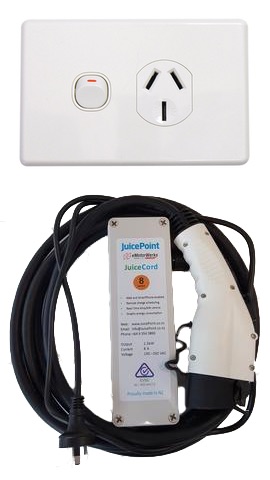 Standard socket (8A)
Allows charging at 1.4 to 2.4 kW with a variable amperage EVSE. Max charge time approx. 14 h.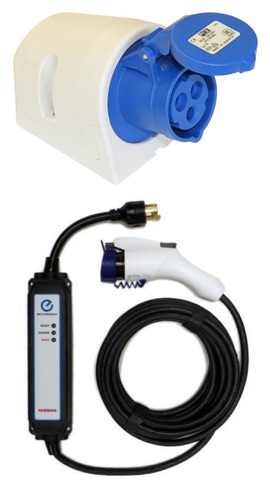 Caravan socket (16A)
Allows 3.6 kW charging using Nissan portable EVSE or similar. Fastest home charger for an ex-Japan Leaf. Approx. 6-8 h charge time.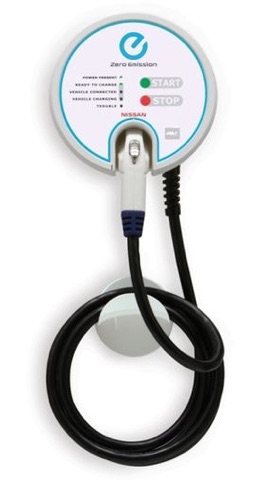 Hardwired EVSE (32A)
Allows charging at > 3.7 kW, only useful for ex-UK Leafs with a 6.6 kW onboard charger. Approx. 4 h charge time.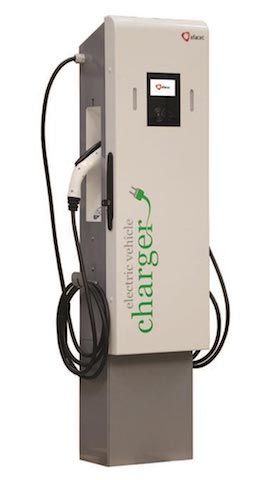 Level 2 Public Charger
Find on PlugShare. Same as 32A hardwired EVSE, but not all have Leaf Plugs (Type 1 J1772), so you may need an adapter.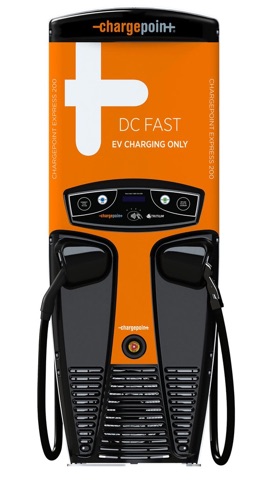 DC fast charger
Public chargers. Find on PlugShare. Approx. 20 minutes to 80% then 15 more minutes to 100%.
If you get a Leaf with a CHAdeMO (Figure 1) DC fast charging option (most have it, but check before you buy), you can take advantage of DC fast charging. You won't be able to do this from home (the unit and plug cost $40,000 and require a serious power supply), but at public locations (see PlugShare) you will be able to charge from empty to 80% in approx. 20 minutes. Practically, you can usually stop for 5 minutes and get enough juice to get home!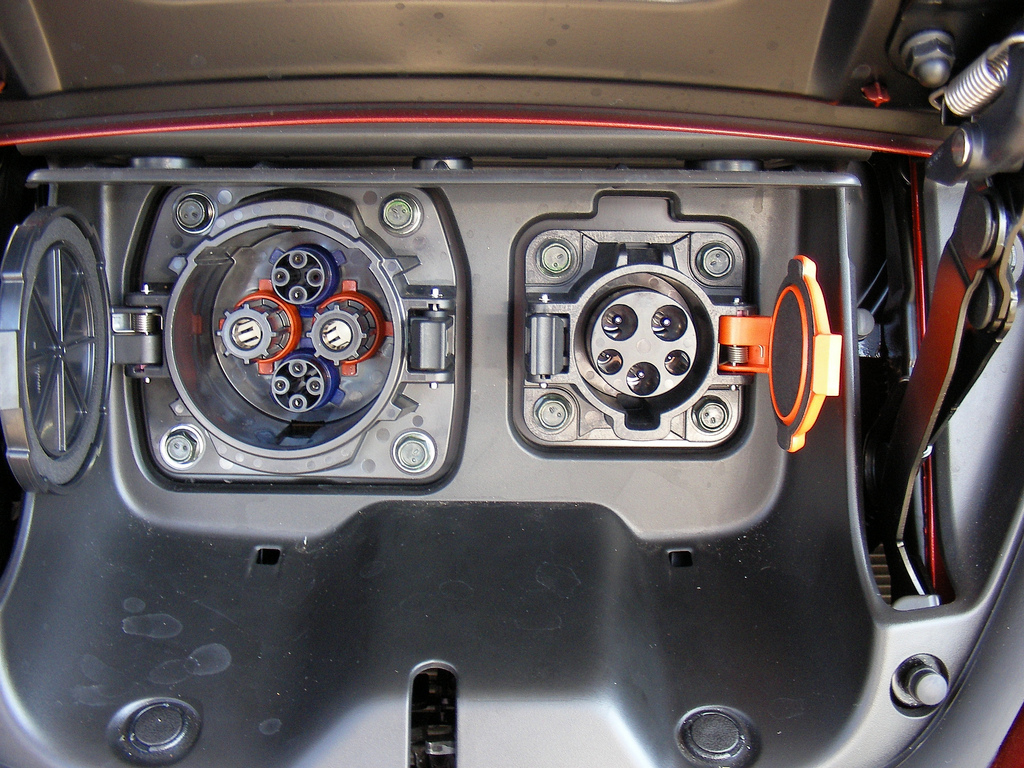 Onboard charge sockets
CHAdeMO port on left, standard J1772 port on right
Table 3. Charge time by amperage (from 0 to 100%)
| Socket | Amps | kW | Max charge time |
| --- | --- | --- | --- |
| Standard NZ | 5 | 1.2 | 14 h |
| Standard NZ | 6 | 1.44 | 12 h |
| Standard NZ | 10 | 2.4 | 10 h |
| Caravan | 16 | 3.6 | 6 h |
| Hardwired EVSE | 32 | 6.6 | 4 h |
| DC fast charger | 50 | Up to 62.5 | 35 min |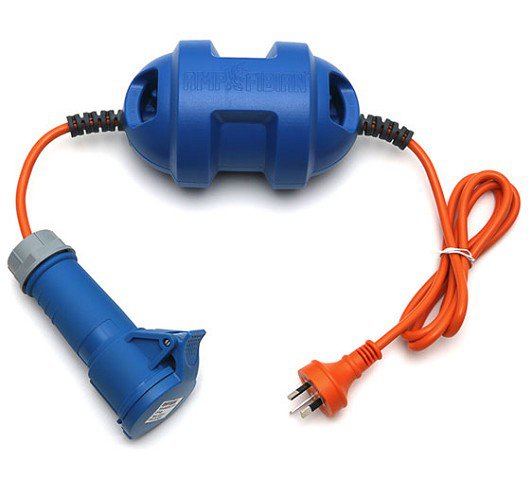 The Mini-Blu allows you to plug your portable EVSE, with a caravan plug, into a standard socket. But only if your EVSE allows you reduce the amperage to 10A or lower. Simply plugging in a standard 15A Nissan EVSE into this will trip the built in over-current protection to stop a fire. This is most useful for allowing you to travel with a portable EVSE, so you can plug into caravan sockets where available, and standard sockets everywhere else.
Special features
The Leaf has a few special features that every owner should be aware of.
query_builder

Charge timer

All Leafs allow you to set a charge timer to take advantage of off peak power rates. If you set an end time only, your Leaf will automatically start charging in time to be good to go by the specified time. If you set a start time, it will start charging at that time and stop (if not already charged) by the end time. 2012 and 2013 "Gen 2" Leafs (and UK Leafs until 2016) allow you charge either to 80% or 100%, but this feature was discontinued in later models so they will always charge to 100%. If you don't set a timer at all, the Leaf will start charging as soon as it is plugged in. If a timer is set, you can bypass the timer at anytime by pressing a dedicated button on the dash.

query_builder

Climate timer

All Leafs allow you to set a target cabin temperature, that the car will try to achieve while plugged in,

bluetooth

Bluetooth

All models have Bluetooth, so you can divert phone calls through the car audio system. The X and G trim can also connect audio from your phone, so your music or podcast will automatically pause when you turn off the car or stereo, and automatically resume when you turn the car/stereo back on.

nature

Eco mode

Many cars have an eco mode, but on the Leaf you can actually tell the difference when it is engaged. The car always runs economically, but with eco mode on, less power is delivered in a given accelerator pedal position than when not in eco mode. Eco mode helps to smooth acceleration, but will allow full acceleration when the pedal is floored.

loop

B mode

B mode introduced with the "Gen 2" Leaf causes regenerative breaking to occur as the accelerator pedal is eased. This causes the car to brake when you apply little or no pressure to the pedal. Single pedal driving is therefore possible a lot of the time, though you will usually need to use the brake pedal to come to a full stop or brake more quickly. This mode trades coasting for regeneration, so is best suited where it reduces braking, such as stop-start traffic rather than on open roads. Having said that, you can still coast by applying just a little pressure to the accelerator pedal. B mode can be enabled in addition to Eco mode.

videocam

360 surround camera system

G models offer the option of a 360 degree view parking camera system that gives you a birds eye view when parking. It can be useful for avoiding curbed wheels and for assessing parallel parking space sizes.
Battery health
All batteries degrade, but the odd one degrades faster than the rest. EV batteries from roughly 2015 onwards have been lasting a lot longer than earlier models. The lack of active cooling in the Leaf probably contributes, but even in temperate NZ, degradation can occur inexplicably quickly. As the battery degrades, the car may no longer be suitable for your daily communte, and the car may then have little-to-no value. There is no reliable way to replace the battery pack in NZ.
When purchasing a Leaf, you should check battery bars on the dashboard display. On the far right of the battery state of charge meter is a row of 12 bars with the numeral 1 at the top and the numeral 0 at the bottom. The lowest two bars will be red.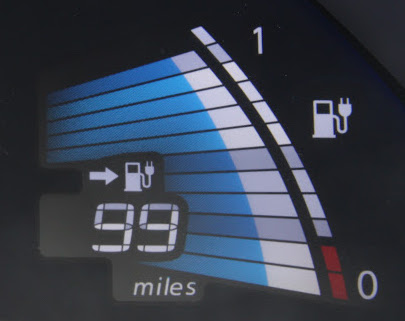 Full 12 bars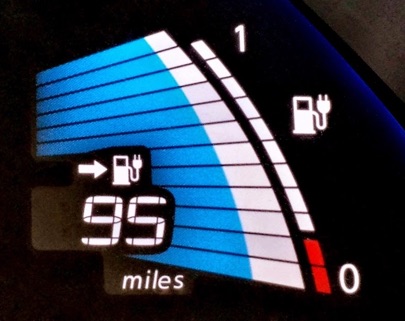 Only 11 bars
The more bars the better. 8 bars or fewer signifies a massively degraded battery. I now have 6 bars 40 km will drop my battery from 80% to 20%.
LeafSpy
LeafSpy is an app available on iOS, Android and Kindle that can be used in conjunction with a wireless OBD2 adapter. It can be used to check the battery health, set the auto door locking behavior, log battery use, and reset some warnings.
LeafSpy exposes a bunch of battery metrics, but does not provide interpretation. The more you read online, the more confusing it can become. There is a lot of debate on what certain metrics mean, so you have to decide for yourself. What also makes things difficult is that the numbers such as State of Health and voltage difference can change drastically depending on how discharged the battery is.
I personally believe it is fine to purchase a Leaf without using LeafSpy, but others swear by it. To be thorough, you need to fully charge the Leaf, then drive it down to empty with LeafSpy running. This usually isn't practical for a car you don't own yet!
The most official definitions of the LeafSpy metrics are available at http://www.electricvehiclewiki.com/Leaf_Spy_Pro
You can purchase an Android and iOS compatible OBD2 adaptor on Amazon or eBay. Search for "LELink Bluetooth OBD2" or "WIFI Wireless ELM327 OBD2" and make sure it is V1.5 (not a higher number).
Check in the question and answers section on Amazon to be sure that it works with LeafSpy.
LeafSpy metrics
GID

Non-percentage metric of battery capacity remaining. The higher this number when fully charged, the larger the usable capacity of the battery.

State of Charge (SOC)

Charge percentage of full (not important for gauging battery health).

State of Health (SOH)

A magical number reported by the Leaf onboard computer. The higher the better (more usable fraction of battery capacity). It can change by a few points at different states of charge. A Leaf with 12 bars, will have a SOH of at least 85%, and each bar lost after that represents a 6.5% drop in SOH. A Leaf that is a few years old and still has 12 bars, has demonstrated that it does not suffer from early degradation. However you cannot make the same assessment for a newer Leaf without LeafSpy. You'll note the math doesn't quite add up and is based on comparisons with the Leaf Spy SOH and the bars displayed.

Hx

Another magical number that is inversely related to the battery internal resistance. It is sometimes higher than 100%. The lower it goes, the more internal resistance (a marker of battery degradation). Like the other numbers, don't put too much weight on this, but feel free to use it to try to bargain down the price.

Voltage difference (shown at the bottom of the battery cells histogram)

As the charge is depleted, the cells voltages become more unbalanced and the voltage difference goes up. A massive voltage difference <100 to 1000 mV might suggest a bad cell. However, the Leaf can balance the cells when left plugged in, so this difference may improve if the Leaf has been sitting unused for a long time, or is usually only fast charged. Again, I wouldn't worry too much about this number. I'd be very happy if it is <100 mV, and would maybe keep looking if a single cell's voltage was very low. It's hard to say if this would have a real world impact on your range though
Ownership costs
From July 2017, the ACC component of annual registration was reduced from $86.50 to just $18! This made the annual total rego fee $76.92 in 2018. This was short lived, and changed to $109.16 in 2019 and has remained the same price to 2021.
Depending on your electricity price, a Leaf is roughly 3 to 5 times cheaper to run per kilometre than a comparable ICE (internal combustion engine) / FART (foul air road terrorist) car. You should expect approx. 6 - 7 km/kWh, so you can calculate your expected cost/km compared to your existing car.
There is no annual maintenance required, no oil changes, spark plugs, or cam belts. You will need to change tires occasionally, and brakes every so often. But the brake pads will generally last much longer because the regenerative braking reducing the use of the brake pads.
Personally, I went from a Subaru Forester costing $11/day for a 68 km commute + $1600 annually in maintenance for a $1.50/day commute with no annual maintenance. My Leaf could pay for itself in 10 years, if only the battery would last that long!
Unfortunately, road user charges will one day be applied to EVs.
Range
The main determinants of range applicable to NZ are:
battery_charging_full

Battery state of charge (charge percentage)

If you start with 100% charge, you will have more range than if you start with 80%.

battery_std

Battery capacity and age

Obviously the larger the battery (30 kWh vs 24 kWh), the more potential range. Over years, the battery capacity will degrade. A "Gen 1" Leaf will probably not achieve 50 km in 2022. A "Gen 2" with 10 or more bars should get at least 100 km. You should expect more, but these minimums should be kept in mind for your usual use if you are unable to test out your commute before buying.

beach_access

Wind and road resistance

Wind resistance increases with speed, so the Leaf's efficiency peaks between roughly 30 kph and 80 kph. Heavy traffic is a Leaf's best friend – I use about 30% less capacity crawling at 30 kph in rush hour compared to the same distance at 100 kph. Heavy oncoming wind will reduce range, while a tailwind, or drafting behind a leading vehicle will increase range. Also rough/grippy rural roads provide more rolling resistance than smooth roads, reducing range.

landscape

Hills

Driving up hills uses the most power, so if you go up and down a lot of hills, expect your range to be less than that of a flat highway commuter. Having said that, EVs work fine in Wellington, and you can regenerate a lot of the energy (perhaps 80-90% by some reports) on the downhills.

perm_identity

Driving style

If you accelerate smoothly and decelerate over a long distance to maximise regenerative braking, you will achieve more range than accelerating aggressively and braking a lot.

beach_access

Wet weather

Wet roads increase rolling resistance, reducing range. Wet weather also necessitates use of the wipers, which are fairly power-hungry, as well as the head lights. Where AC is also needed to defog the windshield, power use increases also.

wb_sunny

Temperature

The battery is less efficient in extremes of hot and cold. In NZ, heat does not seem to be such a problem (compared to Arizona for example), but during winter, expect a 5-10% drop in range in addition to use of heating.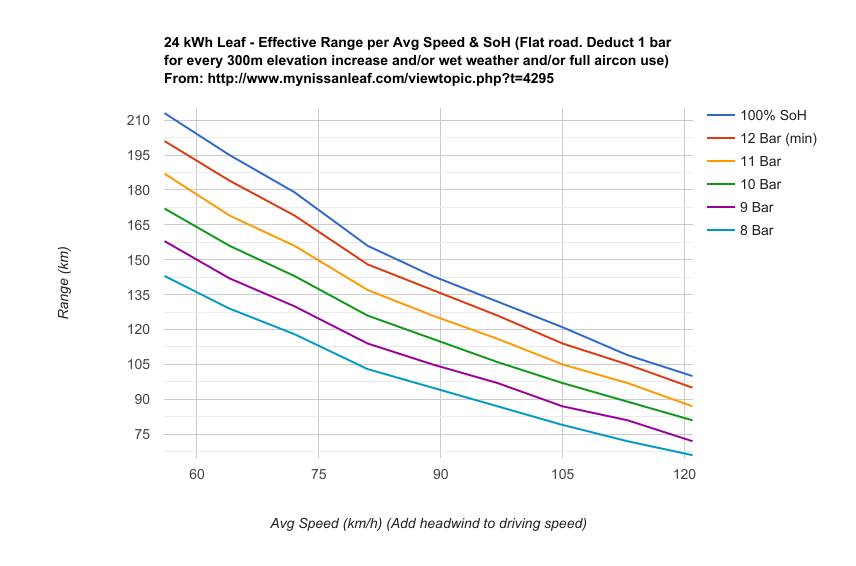 Pre-purchase checks
The Leaf has a simple trim line up, is mechanically simple (few parts), and usually owned by meticulous EV enthusiasts. This means you are unlikely to encounter a lemon. The few specific checks for a Leaf before purchasing are:
That's it! No cam belt, no oil, no spark plugs.
Settings
The USA ownership manuals can be used to stumble around the Japanese interface as most of the software buttons are in the same place.
The Google Translate app is also an excellent tool for instantly translating menu items into English.
watch_later

Setting the time

Japanese Leafs derive the on-board clock from GPS. So you need to disconnect the GPS and fiddle with a hidden menu to set the time manually. The video below (by kapiticars) guides you through this.

bluetooth

Pairing your phone

For X and G Leafs, the phone pairing is performed via the navigation unit.

query_builder

Setting the charge timer

For X and G Leafs, the charge timer is set via the navigation unit.

query_builder

Setting the climate timer

For X and G Leafs, the climate timer is set via the navigation unit.
Other guides
EV DB New Zealand
Database of upcoming and available EVs in NZ. Includes helpful graphical displays for comparing value.
Comments